First Built: 1889 [1]
Rebuilt: 1904
Reinforced: 1914
Rebuilt: 1956
Anchors Replaced: 2007
Length: 137m[2]
Type: Suspension, steal cable, foot bridge
Location: North Vancouver, British Columbia
Reason for honorable mention: Frighteningly large entry fee of $31.95 CAD; overcrowding.
Author's note: The original hemp & cedar Capilano bridge might have qualified for a ScaryBridge listing. But the modern bridge appears to be properly designed, well built, well maintained, and quite safe. It is not scary enough for a full listing.
The bridge is located on the Capilano River in Capilano Suspension Bridge Park, a small private park in North Vancouver, British Columbia. The bridge is the main attraction of an eco-tourism operation, of which also includes a large tree fort, a skywalk, a gift shop, restaurant, and more. Access to these extras mitigates the high entry fee.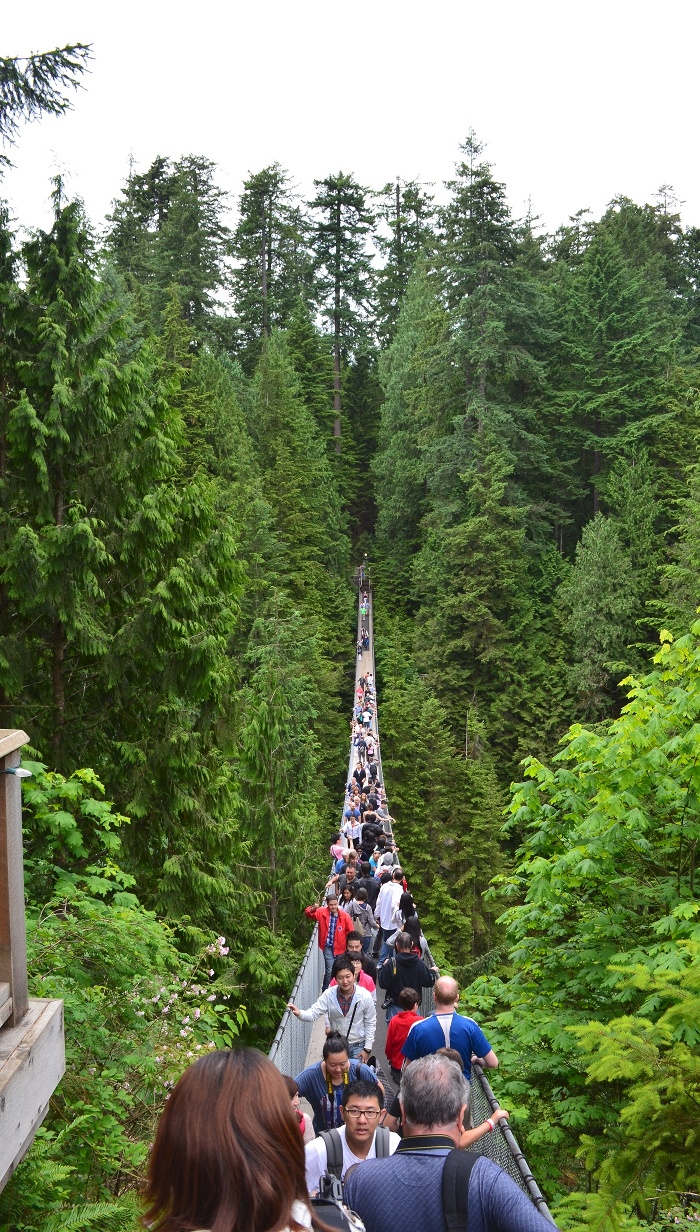 The view down from the bridge will make some people nervous, as will the occasional swaying motion. However, unlike some other webpages, that does not meet the low safety standards of this scary bridges webpage.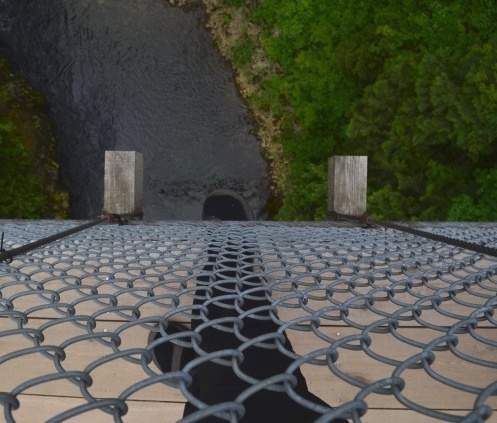 The support cables are substantial, and have proven themselves to be up to the task. In November of 2006 a very large Douglas fir fell on the bridge. The tree snapped in half on impact, leaving a 17 ton log across the bridge. The 13 ton anchors absorbed the shock load by shifting, as designed.
The tree was removed, the bridge inspected, and the anchors replaced with heavier anchors. The information avalable in the park does not discuss possible non-elastic deformation of the steel due to the impact. Nor does it discuss the effect of heavier anchors on future shock loads. Maybe they are worried about a heavier tree? All indications are that the engineers involved know what they are doing, so they probably addressed these issues.
As demonstrated by these repairs, the park deserves credit for taking bridge safety seriously. Proper maintenance and engineering help prevent bridges from being receiving a scary bridge listing. If this bridge collapses, or otherwise becomes highly unsafe, it could be downgraded to a full scary bridge listing.
The park's nice and large treefort consists of several long bridges and high platforms. Just the sort of thing that every kid should have. Unlike the author's former Treefort Bridge, this treefort & associated bridges can handle a large crowd. It also compares favorably in quality of design and construction.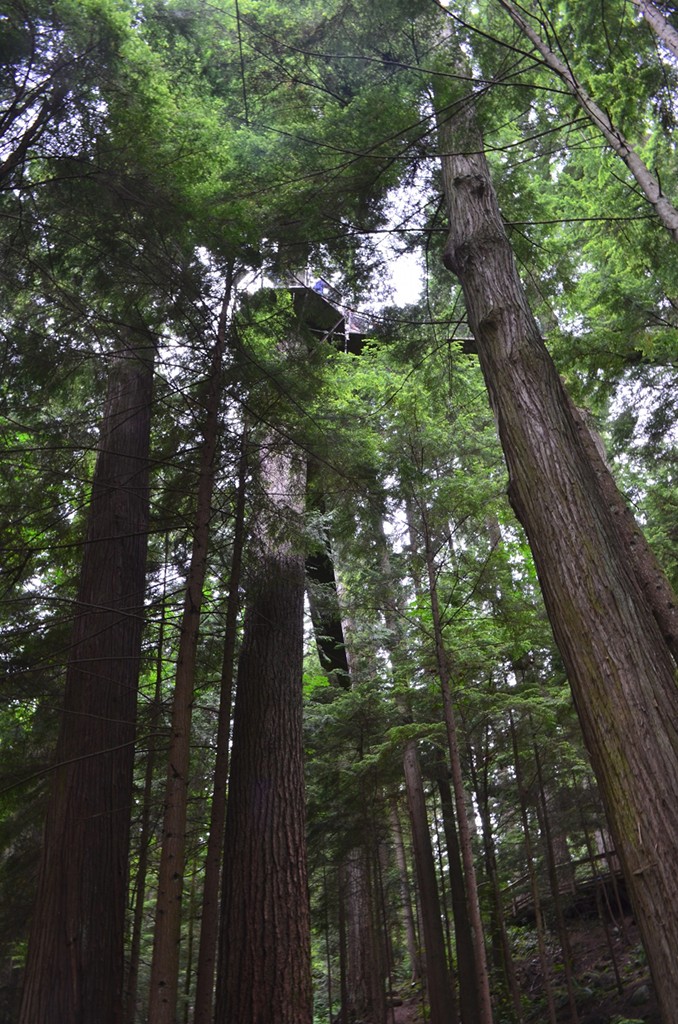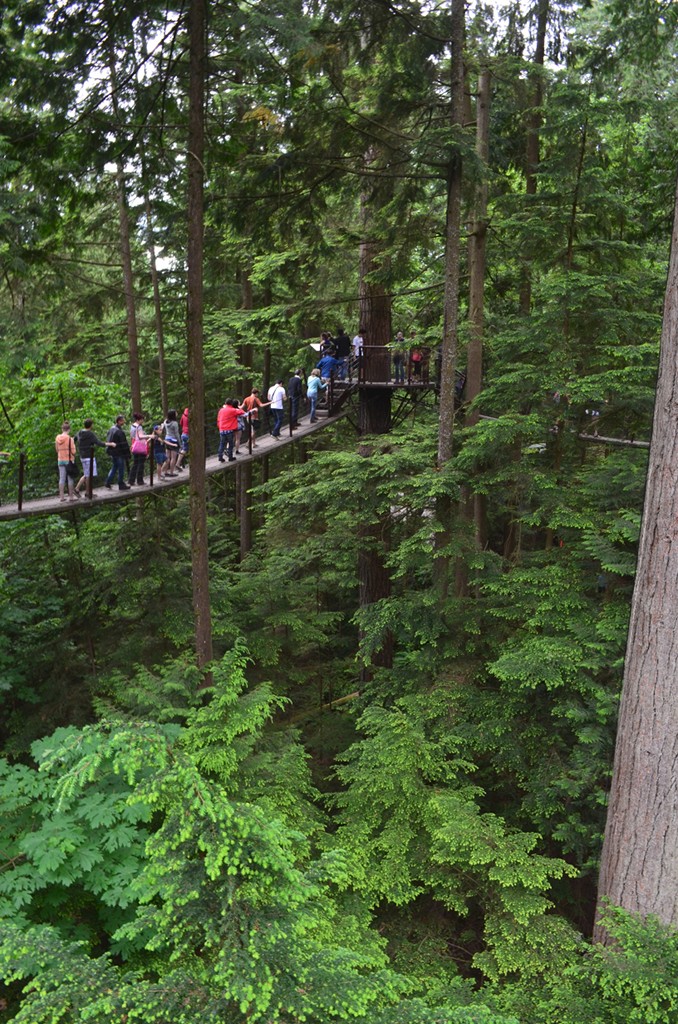 Additional support was added via a network of cables connected to adjacent trees and the forest floor.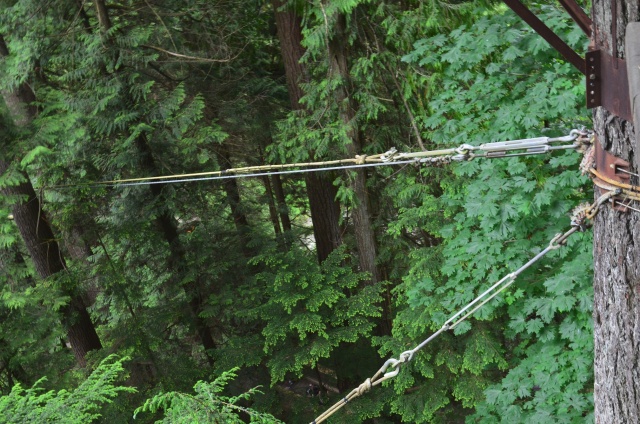 This support cable was anchored to a fallen tree. Fallen trees can maintain integrity for a remarkable length of time, but rot is a potential problem. A lot depends on the design life of the treefort. Presumably this issue is mitigated by proper inspections. (Engineering inspection checklist: Inspect cables for corrosion. Verify proper tension of cable. Verify that the rotting log remains within safe limits. Inspect turnbuckles for movement. Verify proper tension of cable...). It is not clear how critical this anchor is; they might be redundant to increase safety.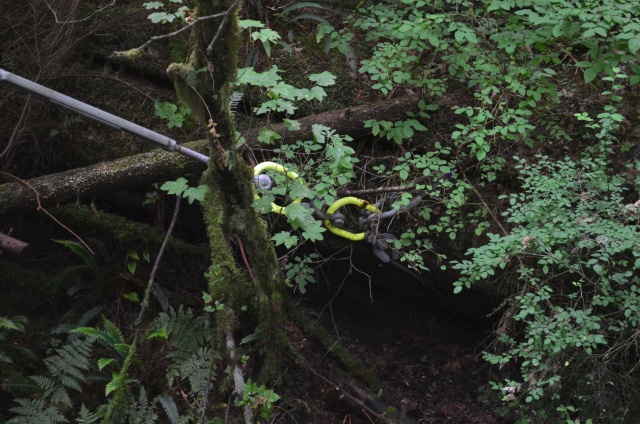 The park also has a skywalk. It is a series of steel walkways of which are hung on the side of a cliff. One section arches out from the cliff, providing a wonderful view of the area.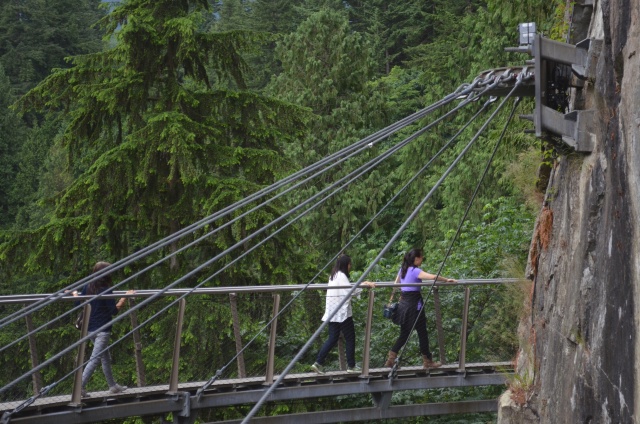 The park is oriented toward children, and provides an excellent place for young people to enjoy nature and engineering.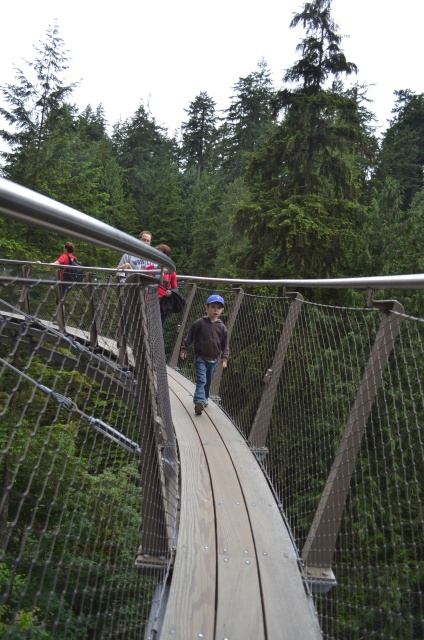 1) Unless otherwise stated, facts regarding the bridge were found on the official webpage, as retrieved in December 2013.
2) Wikipedia lists 140m, citing Structureae, a German group running an international database of structures. But the park's official webpage lists 137m. ScaryBridges will assume that the park's managers know more about their bridge than the Germans until proven otherwise. Neither source states if the length measured is end to end in a straight line, or following the curved decking; this might help explain the discrepancy.